Stay Fit, Lose Weight, and Build Muscle! 

These award-winning resistance bands provide a great way for individuals to work out.
Whether you're at the gym and want to use this to aid in your exercise or your at home and are looking for a new way to work out and stay in shape, these resistance bands are a great choice!
You can do a variety of different exercises whether you are using them for sports, fitness, or physical therapy. The different color bands also have a different strength of resistance associated with them so you can choose which one fits you best.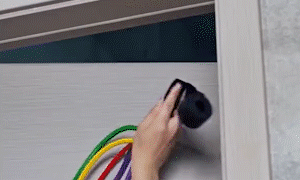 Versatile Up to 100lbs of resistance. Choose from 10lbs, 15lbs, 20lbs, 25lbs, and 30lbs or resistance. You may also use multiple bands at one time and have up to 100lbs of resistance. Able to be used in small areas for people with little space.
Countless Exercise Specially designed and includes all the necessary accessories for hundreds of different exercises. Complete a whole body workout or target a specific muscle group.
Easy Set-Up With included door anchor, ankle straps, and handles, set up the resistance bands in seconds. Just choose your desired exercise, set up accordingly and start your workout. 
Compact All items are easily folded and portable. Easy storage in the bag included. Items can be brought and used when you're on vacation, at work, or just at home.