Improve your living space and give your home an upgrade with our family-friendly and easy-to-clean design.
LineSofa Decorative Stretchable Elastic Sofa Covers Give You:
An awesome and brand-new looking sofa without buying a new one.

You save the cost and time of having your couch re-upholstered somewhere (usually in the thousands!), and also not adding more waste to the landfill.

Get several more years out of your sofa or until it actually breaks down before having to buy a new one.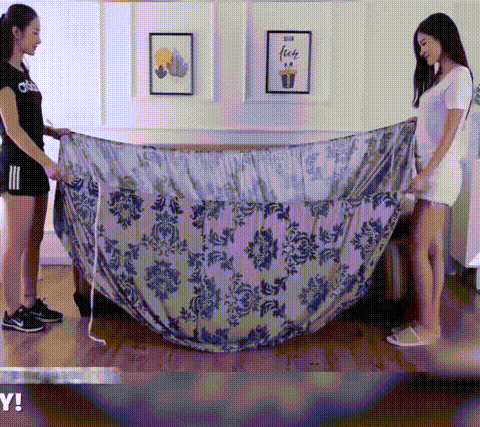 FITS 99% OF SOFA TYPES
High-density stretch fabric with foam bars provides a perfect fitting.
SOFA SLIPCOVERS MATERIAL & DESIGN: Polyester and spandex fabric. All-round without corners wrapped, not easy to wrinkle; elastic band and strap fastening closure at the bottom, double reinforcement, not easy to displace.
FITS MOST FURNITURE: Our slipcovers are one-size-fits-most: 1-seater, 2-seater, 3-seater, 4-seater, L-shaped/sectional (combining 2-3 separate pcs covers). PLEASE FOLLOW THE INSTRUCTIONS BELOW & MEASURE BEFORE PURCHASING.
STAYS IN PLACE: This sofa cover is applicable to any sofa in which there is a gap between the seats with a backrest and armrest. There are cloth strips which can be pushed down and under the sofa – as far as you can - to hold the cover in place.
PROTECT: This basic slipcover shields and protects your furniture from spills, stains, wear, and tear, preventing it from getting ruined. It's particularly great for homes with pets or anyone seeking an economical solution for furniture protection.
LIGHTWEIGHT AND EASY CARE: Easy to set up and pick up; machine wash cold, do not bleach, tumble dry low, do not iron. Installation steps shown via pictures.
PET - FRIENDLY
(video submitted by our customer)
UNIVERSAL SUITABLE TO OVER 99% OF HOME SOFAS SIZE:
Before ordering, we recommend you measure your furniture to determine the right size. Applicable sofa: Armless sofa, Armrest sofa, L-shaped sofa, Sectional sofa.
Size Measurement Guide
1-seater: the length of the sofa (red line) should be 35-55in ~ 90-140cm

2-seater: the length of the sofa (red line) should be 57-72 in ~ 145-185cm

3-seater: the length of the sofa (red line) should be 76-90in ~ 195-230 cm

4-seater: the length of the sofa (red line) should be 92-122in ~ 235-300 cm

Cushion cover: 17x17in ~ 45x45cm

For L-shaped, Corner, or Sectional sofas which combine 2-3 separate parts, you need to order 2-3pcs covers. The size of each cover will depend on the length of AA, BB, and CC lines in the illustration below.

For example: If AA=200 cm and BB=160 cm, then you should go for 1pc 3-seater cover and 1pc 2-seater cover.
HOW TO INSTALL
Step 1. Extend the sofa cover (Position the slipcover over the sofa with the label at the back.

Step 2. Cover the sofa in the right direction.

Step 3. Let the sofa hold down the four corners.

Step 4. Put the small cloth strip into the gap on the sofa.

Step 5. Put the sofa down and pull the cover tight, pulling any excess fabric to the back.

Step 6. Enjoy your newly covered sofa!
REVIVE THE SOFA YOU ALREADY OWN AND LOVE
Find your old, comfy sofas look boring and want to transform it? Or are you thinking about adding some protection to your new sofa? Just use IB™ LineSofa Stretchable Sofa Cover for your loved sofa

Soft fabric
The stitching is durable, the fabric is not easily damaged, and it has a great, soft feeling to the touch.
Straps design
The fixed design with elastic bands and straps at the bottom means it is easy to apply, double reinforced, and refuses to shift!
Stretch fabric
Elastic anti-wrinkle fabric with super-stretch abilities in all directions. Full wrap, not easy to shift or wrinkle
PACKAGE INCLUDES
1pc sofa cover and FREE foam sticks; not including pillowcase.

(Add your favorite pillowcase option - 2pc cushion covers to your cart separately for a perfect living room).
**LIMITED ITEMS AVAILABLE IN STOCK & NOT SOLD IN STORES**
CLICK ADD TO CART TO SECURE YOUR 50% DISCOUNT NOW!!